If you are just starting out as a business in a digital world or if you are already in the digital space and struggling to get traffic then it's the best time for you to use long-tail keywords that will bring more and engaging traffic.
Recently, a guide published on Ahref stated that 92.42% of the internet population search for the keywords which have search volume between 0 – 10.
Understand this with the following graph: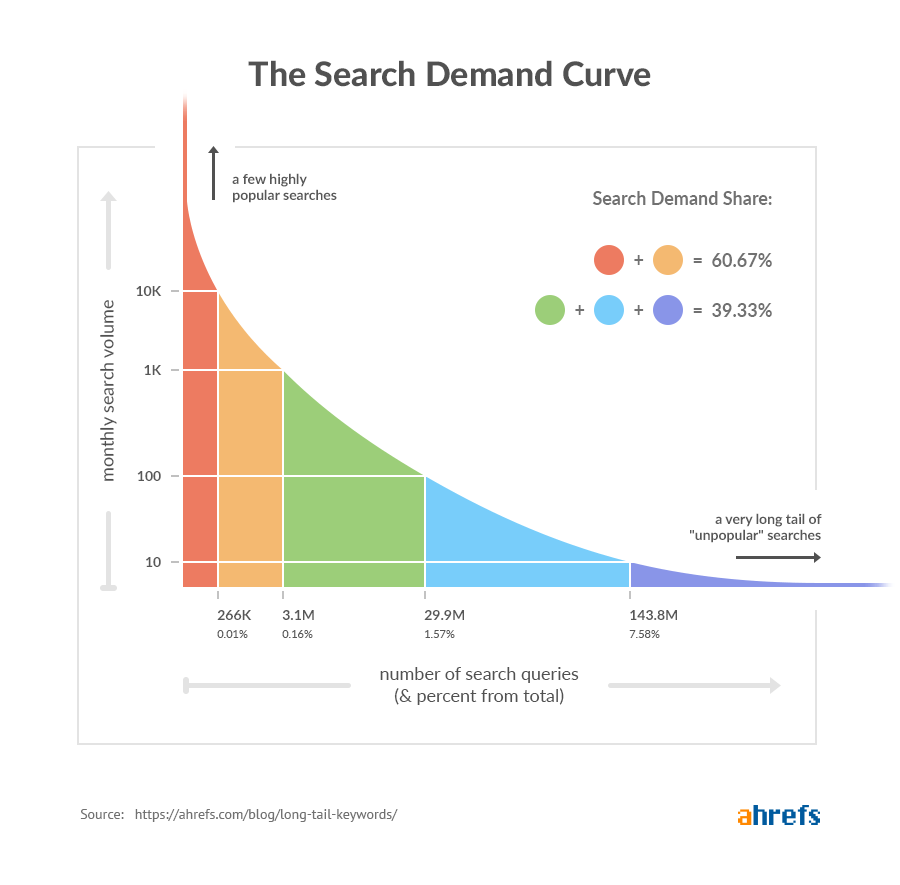 Attention: From the above, might be you understood why long-tail keywords are important for your SEO strategies and definitely you should include them ASAP.
What are long-tail keywords in SEO
The long-tail keywords are the search terms or phrases which are more specific, with low competition but a decent search volume.
Well, might the above definition is not all you need to understand.
The long-term phrases are not just long-tail keywords with low competition, In actual, they will bring your business despite less search volume.
It's okay:
Even if you are just starting out in digital marketing. 
I know:
Even if you are an absolute beginner, you are not just looking for the definition of long-term keywords, but trust me this blog will cover all the aspects of long-tail keywords and will teach you how you can search for these hidden gems.
When I started out. The first question that came to my mind was:
How many words are in a long-tail keyword?
Long-tail terms are longer in length(4 or more words) than most other keyword types.
Despite less search volume, these keywords have a larger conversion value, as they are more specific and can bring a lot of highly targeted traffic which eventually put more business on your table.
Long-Tail keyword example:
As you know now that long-tail phrases are longer in length and it is their length which makes them more specific. 
For example,
If you are searching the keyword "shoe" then it's a short-tail keyword or a head term and now if you search 'best shoes for plantar fasciitis" then we will call it is a long-tail keyword phrase.
Well, after understanding the long-tail searches we need to understand:
Why are Long-Tail keywords important for SEO?
These keywords can be turned around like a gold mine for your SEO strategies. They're the foundation of your online presence on SERPs(Search Engine Result Pages).
There are mainly two reasons you might to include long-tail queries in the blogs you want to write about:
Better conversion rate:
As I have mentioned above these searches are more specific,
People searching for long-tail phrases are looking for a specific product or service. 
For example, people searching for a keyword "shoe".
Someone searching for a keyword "shoe" probably trying to look for just shoes. They are still well far behind in the stage of the buying cycle.
The web pages that will be shown for this keyword will be more informative.
Which tend to less conversion for your business and i.e not good for our business.
On the other hand,
People who are searching for the keyword "orthopaedic shoes for bunions"  are more specific and they know what they need to look. Furthermore, this brings them ahead in the buying cycle and builds a strong conversion funnel.
You can outrank your competitors:
Consider this as an example to understand it better:
You run a women shoe manufacturing company based out of New York.
You just started out in digital marketing and your website is pretty new. 
Now:
If you will target the keyword 'best color shoe', the chances are that your page will never gonna rank for this generic keyword because
There are almost 735 million results out there on SERPs who are targeting the same keyword you are targeting. 
What do you think? Will, you ever outrank them?
Big NO:
There are 0 chances that you can outrank them and place your webpage onto 1st page of SERP for the keyword "Shoe"
But:
If you target "orthopaedic shoes for bunions"
There are 64,600 results for this keyword.
A lot fewer results than the generic keyword "shoe". 
Now you are competing with 64,600 and you already outperform your competition and your chances to rank this keyword will increase drastically.
But:
If it makes your chances to outrank them easily. These are just assumptions of us based on the results what generally people do and get results. Don't assume you can surely outrank them. 
There are several factors Google search algorithm considers during ranking the web pages. Recently I have written a blog on what is SEO & basics of SEO. In this, I have explained how Google's search engine algorithms work.
These keywords or phrases can play their own role and rank your web pages which will bring real conversion value because these people are searching exactly what they are looking for.
So:
Might be you draw less traffic from these long-term keywords than the generic ones, but the traffic that you will draw will be much better, targeted, and will bring real value to your business.
Now in the below step by step guide, I will teach you how to research long-term keywords with less competition. These keywords will be very very specific about what you are selling.
How to find Long-Term keywords
Google Search Related to:
Might be you have noticed when you scroll to the bottom of SERPs there is a section called Searches Related to…
Google can show this list by considering your location factor too. 
But, these keywords can be that hidden gate that will land you up on the SERPs for the top of long-tail search queries. 
Here is the guide how will you research these less competitive keywords:
Type in the generic keyword that you want to rank for:
Go to the bottom of the search result page and take a look at it. You will get 8 Keywords that can be handy for your keyword optimization.
Useful right?
People also ask:
This can be handy too in your long-tail keyword research. 
You can find these keyword phrases by following steps:
Search a generic keyword on the Google search and hit enter:
Scroll down until you see the People also ask section in the search result pages.
There is no fixed number of how much Google will show you by default. It may be 3 to 4 at an average or sometimes nothing it shows.
These are keyword search-related questions people ask.
In fact, this card is gets expanded once you clicked one of the question people asked:
Google search prediction:
Before getting into it. Read How Google Search Prediction works?
When you start typing keywords on Google search, you will notice Google predicts what might you search for or what all the people already searched related to your keyword phrase.
Awesome right? 
Answer the public
This tool is much handy for generating questions that people tend to ask related to your specific keyword.
For example,
If you are searching question that people are asking about "best color shoes"
Well, your search the keyword will get you the following results:
Takedown phrases from these questions which are highly related to your content and search that keyword on Google if people are even searching for it. 
If yes….then go for it.
Soovle:
(It's a free tool)
It's a tool that can scrape all the data people are searching on various digital channels.
It can uncover all those phrases of less competitive keywords which might be you can't discover on other free keyword generator tools.
Just type a specific keyword around which you need to optimize your content.
And see the magic:
Great isn't it?
Q&A sites: 
There are a lot of popular Q&A sites available on the internet.
And:
Maybe you are already familiar with some of them already and using them on a daily basis but not for generating keywords.
Yes. I'm talking about two majorly popular Q&A sites – Quora & Reddit 
You will be amazed by looking at the traffic on these websites respectively:
So:
It can give a much-needed advantage over the competition for your people's needs.
Firstly, head over the Quora and search for your targeted keyword.
And boom:
You will see a lot of popular questions asked on that specific keyword. 
best shoes for flat fees
best shoes for plantar fasciitis
best shoes for ultra marathons
best shoes insoles and many more…
All you need to do is take out the possible keyword or phrases with decent search volume.
On the other hand:
Founded in 2005 the front page of the internet – Reddit.
Whose more than 50% target audience is from the USA.
Alright, enough talk:
Head over to Reddit and search your specific query and let the Reddit do the magic for you.
You will see a lot of questions around your specific keyword. Take a note of the keywords from these questions and you will get many amazing long-tail keywords that you've never thought of optimizing your content around it.
Aren't these the best available platforms for finding the trending long-tail keywords?
Google keyword planner:
The best part of it?
The data is directly coming from Google.
It's an absolutely free keyword generator tool and gives you a plethora of options.
Well, let's roll over the free Google keyword planner and continue our long-tail keyword research.
Go to Google keyword planner and type in "running shoes" and then click on "Get Results"
For a surprise,
Your competitor may be using it and the same data will be shown to them too.
Yielding better results than your competitor using the same tool may be a time-taking process but it's worth of results.
All you need to do after searching your first keyword, take a new keyword from the given options and search that new keyword in the Keyword planner and bang you will get a lot of results again with less competitive keywords.
Do till you don't get the satisfying result.  
Well, of course, there are a few free keyword generator tools like Ubersuggest and Semrush available in the market to discover long-term phrases and these both scrape data from the search engine. 
BONUS:
You Autocomplete Me tool
It is one of my favourite free keyword research tool which I discovered recently.
Type your specific query into the search box and click on the "Autocomplete me"
And:
You will see some amazing keywords which you will not find on any other free keyword research tool.
It will automatically arrange the keywords in alphabetical order too:
You even can download these keywords in CSV format.
Might be worth giving a shot.
How to Use Long-Tail Keywords:
I hope:
Till now, you have understood how beneficial long-tail keywords for your website are.
It's time that you can learn how you can use them around your content:
#1 Heading and Subheadings:
Make sure you use your main keyword in your title and in subheadings.
#2 Anchor text for inbound and outbound links:
Internal link or external link to your one content to other content (should be relevant) and use long-tail keywords in your anchor texts.
#3 Images or Infographics:
Don't just use long-term phrases in your alt text but you should name your file also relevant to your topic.
#4 Optimize content around your keywords:
Make sure you optimize your content around your focused keyword. Don't do keyword stuffing, it's against Google quality guidelines. 
#5 Sprinkle your long-tail keywords or phrases into your content:
Do use the keywords, phrases or terms that are closely related to your targeted keyword. Again it should fit naturally. Don't spam. Use LSIGraph or other free tools to generate a lot of relevant keywords to your targeted keyword.
Conclusion:
I hope you understood what long-tail keywords are and how one should use them in their content strategy. 
As you can see there are a plethora of options to find long-tail keywords. 
But make sure you learn how to use them in your SEO efforts and I know it's a long process but there are some tools that you can use to keyword research like SEMrush for making the process a lot easier to research long-tail keywords.
Optin for their 7-day free trial plan and give a shout about it. 
Maybe you don't see any results but I recommend you to start step by step using long-tail keywords and believe me it will be worth your efforts. 
Read Further: What is SEO in Simple Plain Language? [Here's the Answer]